copy of Doypack® Kraft fenêtre zip 1000 ml - 160x270+2x45
Le sachet stand-up (type doypack®) fenêtre est un sachet souple parfaitement stable avec une excellente présentation verticale. Privilégiez son côté authentique et naturel de ce sachet avec une fenêtre transparente pour mettre en valeur votre produit.
Product customization
Don't forget to save your customization to be able to add to cart
Le sachet stand-up doypack® permet un bon maintien vertical grâce à son soufflet de fond arrondi et grâce à sa fenêtre de bien visualiser le produit.
Cet emballage convient parfaitement pour le conditionnement de vos produits alimentaires mais également pour le conditionnement de tout autre produit : jardinerie, produits ménagers, cosmétique….
Votre produit est solide, en poudre, pâteux, en granulés ? Ce sachet stand-up est constitué d'un film protecteur répondant à différentes exigences comme la protection contre l'humidité, la lumière… doté d'une amorce de déchirure permettant la première ouverture du sachet.
La fermeture Zip du sachet stand-up permet la fonctionnalité d'ouverture / fermeture pour une consommation fractionnée, voire une consommation nomade.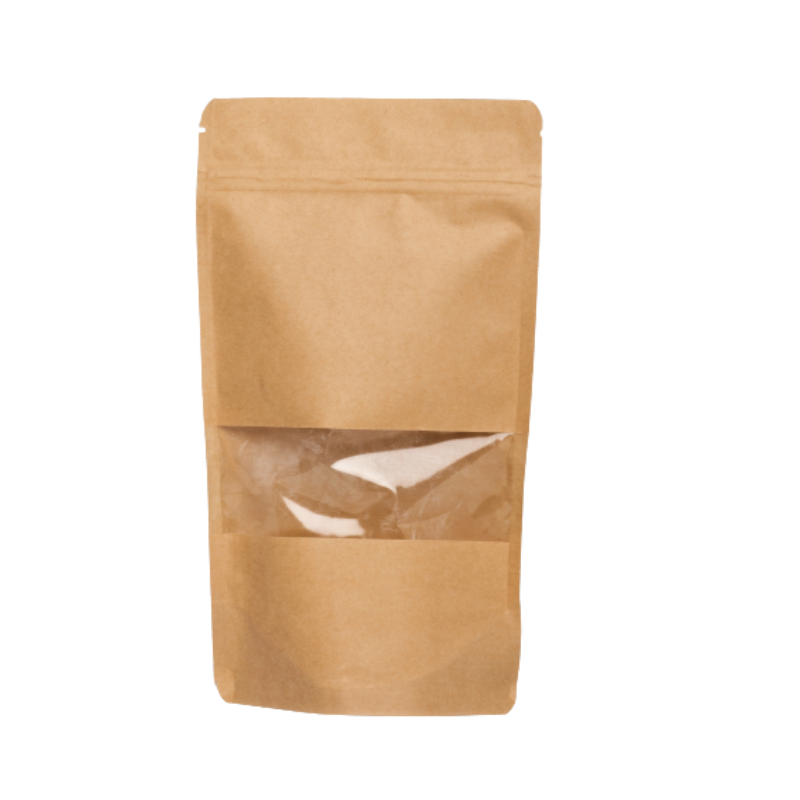 360°
 
Product Details
External width

250 mm

External height

340 mm

Bellows dimensions

2 x 65 mm mm
External width

180 mm

External height

280 mm

Bellows dimensions

2 x 45 mm mm

Dimensions

180 x 280
External width

160 mm

External height

270 mm

Internal width

150 mm

Internal height

270 mm

Bellows dimensions

2 x 45 mm
External width

130 mm

External height

225 mm

Internal width

118 mm

Internal height

180 mm

Bellows dimensions

2 x 40 mm

Dimensions

130 x 225 + 2 x 40 mm
Couleur

Matière

Fermeture

Zip

Épaisseur (microns)

132

Personnalisable

Oui